Sonia Sobrino Ralston (she/her) is a spatial practitioner and researcher. Broadly, her interests lie in how landscape and architecture intersect with geopolitics and the history of technology. Her current projects focus on understanding how regimes historically attempted to establish control over landscapes using environmental media, and the alternative and dissenting systems that respond to them. Sonia recently graduated with distinction from the Harvard Graduate School of Design with a Master in Landscape Architecture, where she won the Digital Design Prize, the Landscape Architecture Thesis Prize, and the Norman T. Newton Prize. She also holds a Master of Architecture from Princeton University where she also received a certificate in Media and Modernity, and was awarded the Suzanne Kolarik Underwood Prize. Beyond this, she has worked as anassistant curator, research assistant, teaching assistant, architectural designer, exhibition designer, data visualizer, publication editor, and graphic designer at various institutions and organizations focused on spatial concerns.
Directing Domains
Fall 2023
Harvard GSD Landscape Architecture: What is a Lake?
Professor Tat Bonhevi-Rosich
with Chandani Patel
Hydrological restoration as political action

What if we were to designate Lake Texcoco tributary rivers, and not just the lake bed, as a protected biological corridor? This project, Entangled Domains, takes seriously the rivers that lead to Lake Texcoco and proposes interventions along the entirety of its transect. From their mountainous headwaters, to agricultural, urban, and industrial midlands, to a channelized lowland, interventions that aim to restore ecosystem health and contribute to aquifer recharge are placed in context with their social and political contexts. For many years, activists in the Lake Texcoco area have argued for more significant opportunities for bottom-up management of rivers using traditional and low-tech methods in the area, while major government organizations have largely turned to development and technocratic solutions. This project attempts to understand Lake Texcoco's tributaries as an opportunity to develop a scaled series of interventions for the river, and by extension the lake's, health over time.

Lake Texcoco's designation as a natural protected area in March 2022 reveals a new recognition for its importance as an ecological resource, particularly as a site for migratory birds, subsistence farming practices, and as an important hydrological resource. However, the plans for the lakebed have been less than ecological; after its stint as an airport site, it is now undergoing conversion into a large recreation-based park that does not clearly respond to ecological challenges. For decades, many forms of top-down development have altered the Texcoco basin's hydrology entirely, affecting not only the lakebed but also importantly the tributaries. Rivers face significant toxicity from industrial and agricultural activities including mining and industrial farming, as well as soil

erosion and subsidence as a result of channelization and deforestation. Meanwhile, on the mountains in the surrounding basin, the majority of the land is under a form of protected land ownership and management. By following existing practices of land management by governments, local institutions including universities, ejido land practices and individual forms of engagement, this project takes into account the intersecting domains of land ownership and management to propose a cohesive approach to improving river health.

This project focuses on the Papalotla river, as well as the linked Chapingo and San Bernardino rivers, as a way to think through different practices and agents that lie along the river. From deforestation, agricultural run-off, severe toxicity from paper pulping operations, urban run-off, and cracks induced by channelization, the Rio Papalotla develops a series of six practices along the rivers edges and two large government nodes to improve the health of the river. Simultaneously, the Chapingo and San Bernardino rivers, facing signification mining pollution, urban run-off, and artificial linkages are understood through alternative practices and designed nodes for improvement. As a result, the incremental strategies and major designed nodes suggest a future where the desires of activists in the area are taken seriously and integrated into government planning as a means to develop a series of interventions that bring cleaner water to the lake, its tributaries, and its residents. In short, Entangled Domains argues that rather than large-scale planning initiatives coming from the top-down, bottom-up and small-scale approaches can make meaningful changes to the area's hydrological systems.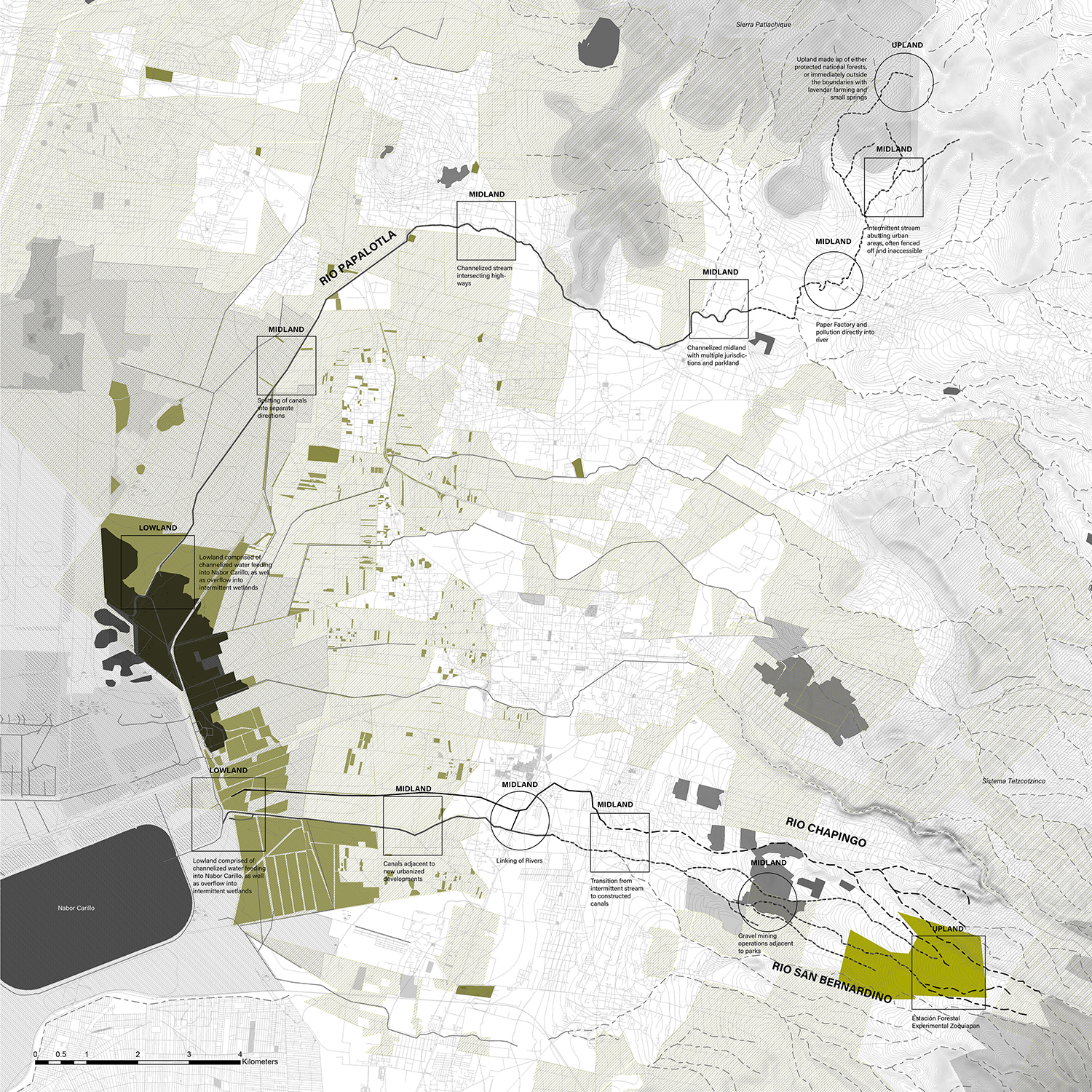 Masterplan map for Paplotla, Chapingo, and San Bernardino rivers
Management strategies, right map by Chandani Patel
Upper River: Practices and Strategies
Urban Midlands: Practices and Strategies
Agricultural Lowlands: Practices and Strategies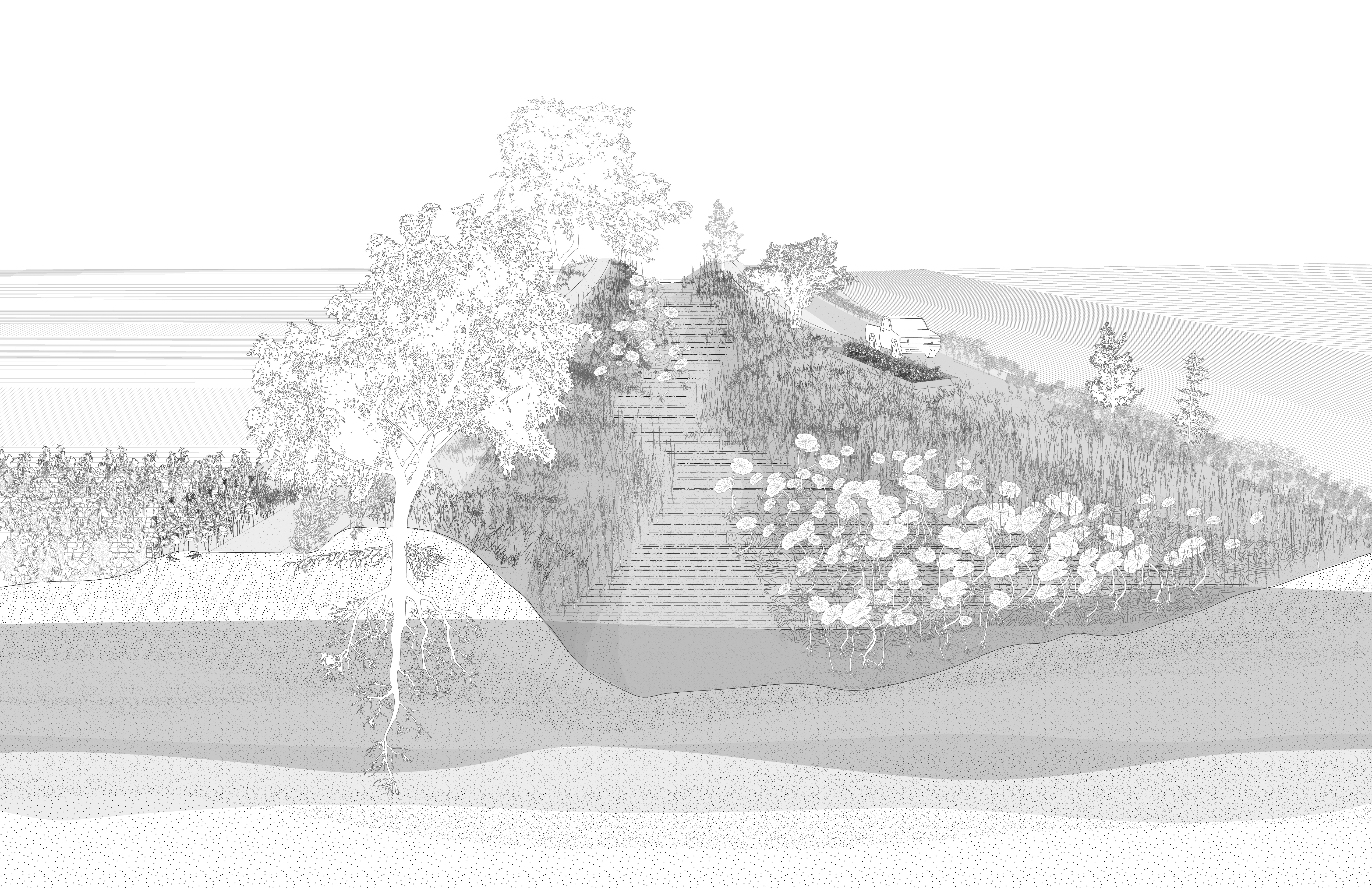 Node 1: Upper reforestation
Node 2: Paper pulping and tezontle mine